This year's first edition of Grossmann Fantasy, Sci-Fi and Comics Festival took place from the 18th to the 20th of October in Ormož, Slovenia. Within the walls of the Ormož castle, numerous exhibitions, Q&As, lectures, film screenings and workshops took place, enabling the visitors to get acquainted with the world of comics, sci-fi and fantasy, as well as some of the artists.
On the first day, dedicated to comics, artists Zoran Smiljanić, Izar Lunaček and Ivica Stevanović introduced themselves with Q&As and exhibitions of their works while the audience was also able to enjoy live reading of the Alan Ford comic book by the Radio Študent crew and test their knowledge at the Fantastic Quiz.
On Saturday and Sunday, fascinating lectures on various sci-fi and fantasy-related topics were given by Milena Benini, Marko Fančović, Aleksandar Žiljak, Nikica Gilić, Željko Luketić and Simon Habjan, there was a live podcast by O.B.O.D. as well as a very successful panel on Dune, along with numerous film screenings (such as Croatian sci-fi hit My Grandpa is an Alien and Finnish superhero sensation Rendel), film costume exhibition by Tajana Štasni and the Fantastic Fair with comics, books, board games and records at the castle yard.
Award winners of the 1st Grossmann Fantasy, Sci-Fi and Comics Festival are Zoran Smiljanić who received the Honorary Vicious Cat for outstanding contribution to comic book art, Milena Benini who received the Honorary Vicious Cat for outstanding contribution to science fiction and fantasy, and Andrej Ivanuša who received the Honorary Vicious Cat for lifetime achievement in the field of science fiction and fantasy.
ZORAN SMILJANIĆ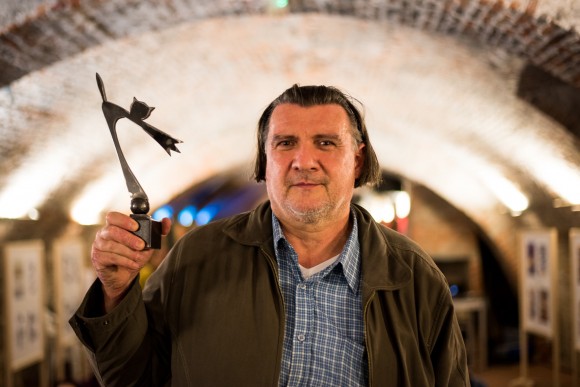 It is a great honour to give our first Honorary Vicious Cat for outstanding contribution to comic book art to one of the most recognized and original - and definitely most cinematic - Slovenian comic book artist Zoran Smiljanić.
If there is such a thing as a cult author in Slovenian comic book scene, Zoran Smiljanić has been one for decades already. Titles such as 1945, 1943, Hardfuckers and Meksikajnarji are well known even outside the comic fan circles. He is a part of the so-called third generation of Slovenian comic book artists that published their works in Mladina magazine, for which he contributed about 800 Pages altogether under the name Vittorio de la Croce. His comics from this period are politically charged, explicit, utra-violent and provocative, taking their subject matter from Slovenian everyday life and recent history.
His most monumental and epic work is Meksikajnarji. It tells the story of Slovenian soldiers who went to Mexico to fight for the Emperor Maximilian in the 1860s. First part of Meksikajnarji was recently published in German translation in Austria. His most recent work is comic book biography of Slovenia's greatest writer Ivan Cankar.
Zoran is a cinephile, using cinematic language with great results in his comics. His big passion are westerns and he is looking for them at the most unusual place, in Slovenia. He wrote three books on film while constantly publishing numerous film reviews and articles.
MILENA BENINI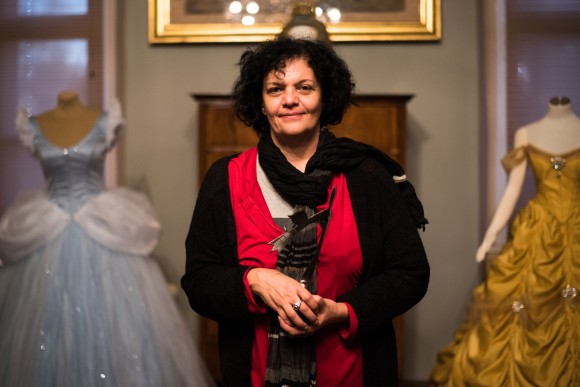 Honorary Vicious Cat for outstanding contribution to science fiction and fantasy goes to Milena Benini, Croatian author, translator, theoretician and editor. Spanning over several decades, her work in the field of speculative fiction has left a very important mark in all the countries of our region.
Milena Benini has long since outgrown the boundaries of Croatian culture, already as co-editor of Yugoslavian magazine Sirius and its successor Futura, which was followed by translations of some of the most important sci-fi works from all around the world, enjoyed by readers in Slovenia, Serbia and BiH. With equal success, she published her stories, novels and theoretical works in English in numerous magazines and anthologies in the UK and USA. She wrote 9 novels and numerous stories and essays. She is also a tireless promoter of science fiction and fantasy. Her contribution to affirmation of the female perspective in literature and fandom is immeasurable. Last but not least, during this festival we were all conquered by her expertise, straightforwardness and passion for this genre.
Even though this award - which originates from the Grossmann Fantastic Film and Wine Festival - is of an international character and is given to outstanding artists of global importance that doesn't necessarily reflects on Slovenia, we would like to use it to point out the need for a larger representation of Croatian science fiction in Slovenia and vice versa and call to cultural collaboration between all republics of our former state when we talk about books and films that we care so much about.
ANDREJ IVANUŠA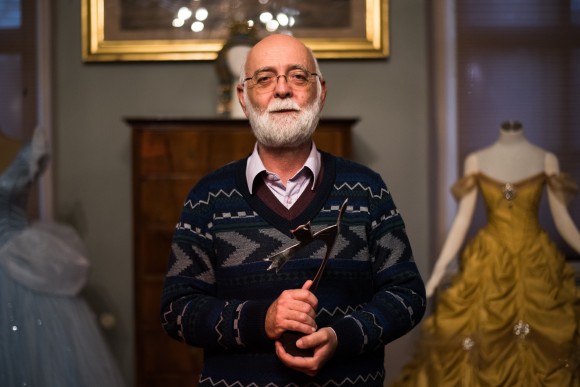 Honorary Vicious Cat for lifetime achievement in the field of science fiction and fantasy goes to Andrej Ivanuša, author, publisher, editor and philatelist. He has been making a name for himself in the literary world for more than 40 years. His career as an editor-in-chief started in 1974 at Naša snovanja and continued at Gradbinec and Konstruktor. He also became the editor-in-chief at Znamkar and managing editor at Nova Filatelija magazine. In his writing he works closely with the Slovenian Philatelic Association and is also author of renowned work Čar filatelije. He also writes poetry and is author of numerous scientific articles and essays. Large portion of his writing and editorial work consists of fantasy, his first works of this genre were published already in school papers. He is also the editor of online fanzine Novice iz drugosti.
In 2002, he published his first fiction book, children's fantasy adventure novel Čudovita potovanja zajca Rona in four parts. He continued this successful path with science fiction works Rheina (2007) and Vilindar (2007), followed by a collection of speculative stories, formerly published in various magazines, with many of them being translated into Croatian, Serbian and English. He represents Slovenia at numerous international conventions in Slovenia and the whole region. He is co-founder and president of Zvezdni prah, association of authors of speculative arts. He is respected everywhere as an outstanding interlocutor and expert on the world of sci-fi and fantasy. His contribution to popularization of science fiction and fantasy is immense, together with a few fellow enthusiasts he painstakingly built the foundation of this genre.